Auto-Lean, Auto-Heat, Auto-Step, ATIS WHIZ

​Auto-Step Actuator
Electric Conversion for your Mooney Boarding Step!
FAA-PMA APPROVED!
Conversion kits for pneumatic or manual crank steps!
Potentially the most cost effective speed mod for your Mooney!*
*Our testing indicates that an extended retractable step can slow your aircraft by 2 to 3 KIAS due to induced drag and induced out of trim yaw. Try for yourself!


Auto-Step Actuator
Auto-Step is an electric conversion for your Mooney retractable step.
-The vacuum step vacuum plenum is no longer available. The Auto-Step actuator is a direct replacement.
-Light weight. Save weight over your existing system.
-Gone all electric? With the Auto-Step Actuator, you can remove your vacuum system and save weight.
-Easy 3-4 hour installation.
-Kit is complete. Includes the actuator assembly, cables, springs, hardware, and turnbuckle.
-Automatic operation, switched power is tied to the beacon. Beacon ON- step UP, Beacon OFF- step DOWN.
​-Minor alteration, no 337 needed....FAA letter included.
Auto-Step Vacuum Retrofit Actuator Kit
​AS-KIT-001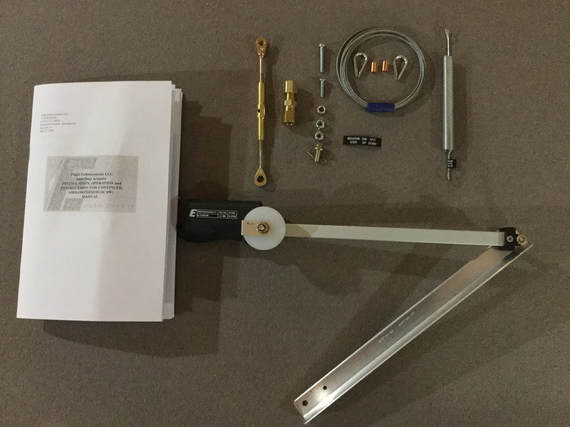 Auto-Lean
Auto-Lean performs the tedious part of setting your aircraft mixture for you. It can help you:

Save Fuel
-Auto-Lean will consistently set your mixture to the requested setting
-Use Auto-Lean when you are too busy to "mess with the mixture"
-Use Auto-Lean to maintain your EGT while climbing or descending
Protect your engine
-Don't run your engine too hot because you didn't take the time to lean it correctly
-Auto-Lean doesn't get distracted during the leaning process
-Select the relative mixture recommended in your POH and let Auto-Lean do the rest
No hassle
-No need to interpret your engine analyzer
-Simple operation
-Repeatable results
-Easy installation, compact size
Flexible Operation
-Rich of Peak (ROP)
-Lean of Peak (LOP)
-Peak
-Temperature Hold
Fly!!!!
-Fly the airplane
-Let Auto-Lean do the leaning
-Keep your eye on the sky, not on your analyzer
-No complex button pushes like many analyzers
Custom Installations and Applications Available
-Call for a quote


Auto-Heat
The Comfort of Home in your airplane!
Auto-Heat is a thermostat for your airplane. Set the temperature and forget it. No need to keep asking your passengers if they are comfortable. Set the temperature just like your home and let Auto-Heat manage. It can optionally control the vent as well, for summer operations. Use "mixed mode" for spring and fall operations.
ATIS WHIZ™
Memory a blur?
​​ ATIS WHIZ™ is a simple, new, device for those who just can't remember "the information". ATIS WHIZ™ is a simple device to quickly record the ATIS information identifier. No need to write it down or keep rolling it around in your head. Just turn the WHIZ wheel to the appropriate letter identifying the current ATIS information.
​
ATIS WHIZ™ is versatile. Use it as a blanking plate, a key chain, or keep it in your pocket. You can also mount it on your panel, visor, compass post or knee board with the attached tape. As a blanking plate, it fits standard 2 1/4" aviation cut-outs. Great for student and professional pilots alike!

​ATIS WHIZ™ is made of durable 60mil FR4. This is the same material that circuit boards are made of. It is compact, light weight, durable and fireproof.